Lash Extensions at the Beach: Do You Have to Follow Special Rules?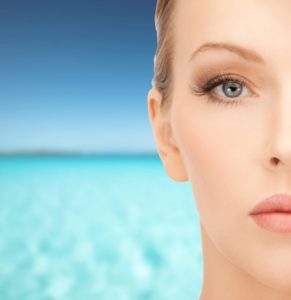 Lash extensions continue to trend as one of the most popular beauty enhancements in the industry, and for good reason! Long, dark eyelashes have the ability to completely transform the face, but most women are unhappy with their natural lashes even once mascara has been applied. Lash extensions make it possible for ladies to embrace their eyes and feel more confident without worrying about expensive mascaras or glue-on falsies. You may find yourself wanting lash extensions more than ever as the weather warms up and summer approaches. Fortunately, lash extensions can be used at the beach and on vacation as long as you stick to these basic guidelines.
Wait Before Jumping In
Though lash extensions are meant to endure moisture and water, the glue used to attach each fake lash to your natural eyelash needs about 48 hours to cure. As long as you wait 48 hours before swimming, showering, or hopping into the hot tub, your brand new lashes won't lose their integrity or fall out earlier than expected. It's important to note that sweat also qualifies as moisture, so don't plan your lash extension appointment immediately before spending six hours in severe heat. As soon as the first 48 hours has elapsed, you are free to swim, sweat, and shower freely!
Watch the Sunscreen
Sunscreen is absolutely critical for your skin all year round, especially in the summer months. However, you don't want to get it too close to your eyes when you have lash extensions in place. Many sunscreens contain chemicals that can damage your lashes or wear away the glue that holds your extensions in place. In short, apply your sun lotion as normal, but just give extra effort toward protecting your eyes.
Careful with Your Towel
After taking a tip in the ocean or pool, it might be tempting to wipe your towel across your face to dry off. It's important not to do this when you are sporting lash extensions, because the force of the towel might loosen your extensions from their root or disturb your natural lashes. Instead, simply dab your eyes above and below your extensions to dry off without ruining anything.
Lovely Salon & Cosmetic Center offers premiere lash extension services in the Costa Mesa, California area. Call them today at (949) 548-5274 to schedule your appointment and experience the many benefits of lash extensions!