Hair Removal the Sweet Way: With Sugar!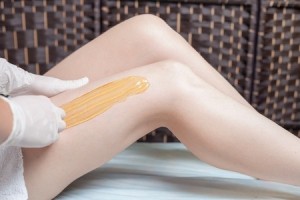 Body hair isn't wildly popular in America, as proven by the popularity of waxing and laser hair removal procedures. However, waxing and laser treatments each have their downfalls. The good news is that the alternative isn't the dreaded razor, but rather a completely natural form of hair removal that's even edible! It's called sugaring, and once you start you'll wonder how you ever lived without it.
The Downsides of Waxing and Laser Treatments
Wax is composed of a number of chemical ingredients, including resins and preservatives. It's heated to a very high temperature to liquefy and be applied to your skin. Similarly, it adheres itself to live skin cells and increases the risk of removing skin along with the targeted hair follicles. This makes wax risky for people with acne, susceptible skin, and chemical sensitivity. Furthermore, contamination is all too common during waxing since bacteria breeds in hot wax and the same pot of wax is used for more than one person.
Introducing Sugaring
Believe it or not, the popular trend of sugaring actually began more than 2,000 years ago. The women of Alexandria held hairless bodies as the epitome of beauty and youth. Cleopatra was believed to use sugaring for her personal purposes as well.
The Process of Sugaring
Sugaring uses three completely natural ingredients: sugar, water, and lemon. When combined in the right amounts, the ingredients create a water-soluble paste that actually removes hair from any area of the body. Better yet, sugaring doesn't just remove hair from the surface of the skin. It removes hair from the root entirely, which helps hair become softer over time.
Benefits of Sugaring
The pureness of sugaring keeps skin safe and even helps nourish it during the process. Unlike wax that can burn and damage skin, sugaring gently removes hair follicles and leaves the skin exfoliated and smooth.
In addition, sugaring leads to permanent hair loss! Consistent sugaring treatments first significantly reduce hair regrowth and eventually leads to complete follicle atrophy. This gentle, safe, and natural hair removal process is incredible!