Everything You Never Knew about the Hydrafacial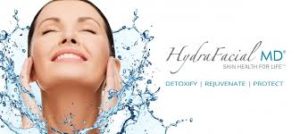 It only takes 30 minutes to get the best skin of your life. In the time it takes to watch your favorite TV show or make dinner, you can treat yourself to the Hydrafacial and transform the health and appearance of your skin. How can you say no to that?
The Hydrafacial Accommodates All Skincare Needs
Some cosmetic treatments are targeted to specific problems and concerns, but not the Hydrafacial. This incredible procedure is for everyone because it can be customized to address whatever problems you currently face. Issues with fine lines and wrinkles, elasticity and firmness, tone and vibrancy, skin texture, brown spots, oily and congested skin, and enlarged pores can all be tackled with the Hydrafacial!
It's Powered by a Unique Serum Delivery System
The entire Hydrafacial treatment uses a multi-step process of cleansing, exfoliating, and extracting the skin to remove impurities and dead skin cells that bog the skin down and cause unwanted signs of aging and damage. However, the Hydrafacial doesn't stop there. It also uses an innovative serum delivery system to quench the skin with essential nutrients like hyaluronic acid, peptides, and antioxidants that bring the health and radiance of your skin to the next level. Since your customized serum is applied after your skin has already been cleaned, exfoliated, and extracted, the serum is able to penetrate into the deeper layers of your skin and make a huge impact.
You Can Opt For an Extra Boost
The more you customize your Hydrafacial, the more dramatically it can attend to your most important skin care needs. This is why the Hydrafacial can be boosted with "super serums" that address specific skin concerns. The Dermabuilder Boost, for example, minimizes signs of aging and recharges the skin with a patented combination of peptides. The Growth Factor Boost, on the other hand, minimizes the appearance of fine lines and wrinkles to restore the skin's health and vitality. There's also the Britenol Boost to minimize the appearance of dark spots and sunspots for an even and flawless complexion.
No matter what your skin needs to look its best, a Hydrafacial at Lovely Salon & Cosmetic Center in Costa Mesa, California can make it happen. Call or text (949) 548-5274 to make your Hydrafacial appointment and wipe away years of skin damage in just 30 minutes!